Embroidery Projects
Embroidery for creative outlet, entertainment and stress releif
New things will appear at the bottom of the page as I have time to take photos of them and add them to this page.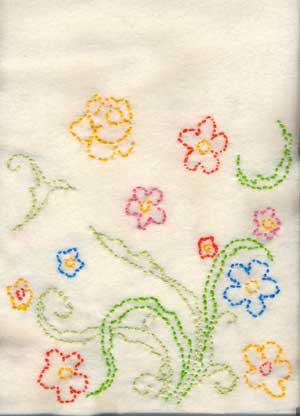 Embroidered Fleece Scarf: I made this over a year ago using a plain fleece scarf purchased at a $1.00 store. I stenciled the flowers onto the fabric using a water soluable fabric pen and then did the embroidery over top. This is from a Linea project stencil from DMC. At the time all of the Linea line of stitching projects, stencils, transfer paper and floss all went on clearance at every craft store in my area. So I bought a bunch of stencils, floss and kits very cheaply.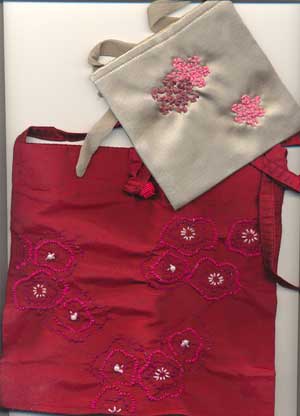 Pouches and Purses: These were from Linea kits. The smaller, is a sachet pouch in satin. The larger is supposed to be a purse in silk. I don't use this as a purse because it is so very delicate. Instead, I've turned the purse into a potpurri bag or sachet just like the smaller pouch. I did have fun sewing on silk. It is not very often that I get to work on a fabric like that. Silk is delicate and presents its own unique quirks when working with it.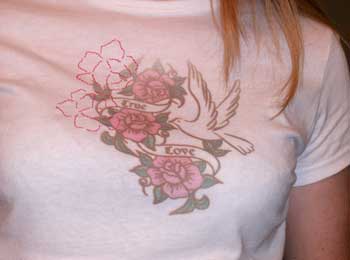 Embellished T: This is a white t-shirt that I decorated with an iron on transfer and embroidered two roses off to the side. I'm experimenting with decorating clothing with emboridery so I decided to start easy.

Back to the Sewing & Fabric Arts Page