Cross Stitch Projects
Cross stitch in particular has been my stress relever lately. Normally, chocolate is my stress releif.
New things will appear at the bottom of the page as I have time to take photos of them and add them to this page.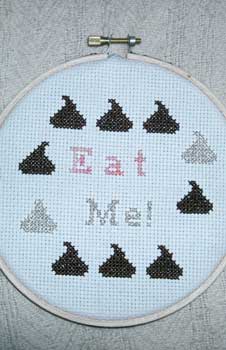 "Eat Me" with little chocolate kisses. Two of the kisses and the word "Me!" were done in metallic silver floss (very difficult to work with). I was very frustrated by things when I stitched this.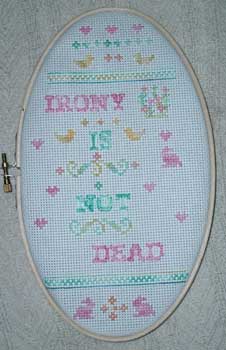 "Irony is Not Dead" This is based on a pattern from Subversive Cross Stitch by Julie Jackson (www.subversivecrossstitch.com). I did this in multi colored pastel floss and added in more hearts, flowers, bunnies and ducks for extra cuteness irony.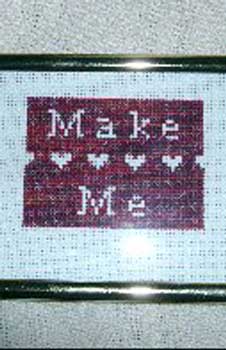 "Make Me" I made this when I was annoyed by something at work. I did this in a multi-colored floss that fades from burgundy to red. The photo does not do this justice. This is very minimalist with the stitching outlining the lettering and the hearts.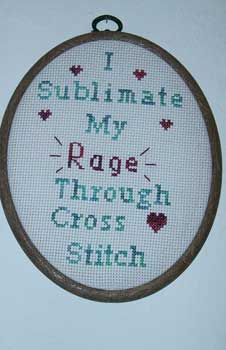 "I Sublimate My Rage..." A little idea borrowed from Bitter Stitch. This is my own variation devoted to cross stitch. Although I do use all needle work projects as a way to express what I'm feeling at a particular time.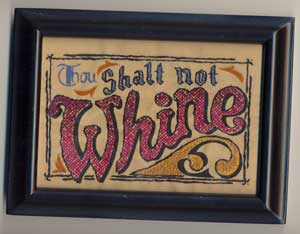 "Thou Shalt Not Whine" I made this over a year ago. I got this as a kit. I originally made it for my office but decided it would work just as well in my kitchen. I made this when I'd just been getting back into stitching and so this is not my best work. However, I still think this is funny.

Back to the Sewing & Fabric Arts Page